Projects from Chicago, Madrid, Milan, Oslo, Paris and Reykjavik have been chosen in the first round of the organisation's Reinventing Cities competition.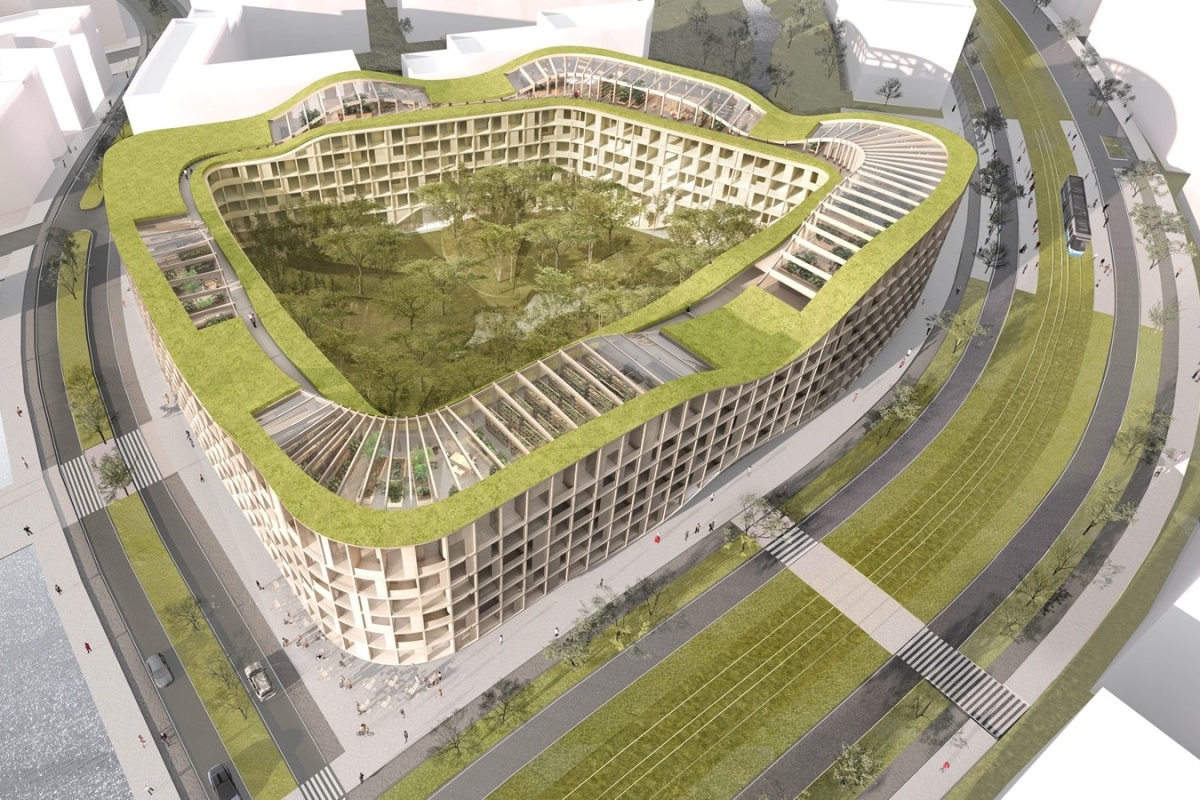 Lifandi Landslag, which will be a zero-carbon living landscape in Reykjavik
The climate leadership group, C40 Cities, has announced 15 winners in its Reinventing Cities competition that aims to find urban projects that will transform under-utilised urban spaces in their communities into carbon neutral and resilient urban spaces.
The initiative was launched in December 2017 and is supported by Climate KIC. The 15 winning teams of architects, urban planners, designers, developers, entrepreneurs and innovators were selected by juries in each city, from amongst 82 finalist teams. Additional winning projects will be announced in other cities, including Auckland, Montreal, Houston, Rio de Janeiro and Vancouver in the near future.
Replicable solutions
C40 received more than 230 Expressions of Interest from 1,200 companies and organisations, including some of the biggest names in architecture and engineering and the 15 winners will have the opportunity to take their projects from concept to reality.
The competition aims to bring to life pioneering models of public-private collaboration for carbon-neutral development that can serve as examples of replicable climate solutions for other cities.
The winning projects announced are:
Garfield Green, Chicago, Illinois: a net-zero carbon and net-zero energy residential community that will be located in Chicago's East Garfield Park area, a neighbourhood in need of economic investment. It will generate 100 per cent of its power and process all stormwater on site.
Mercado Habitado II, Madrid: an ambitious net-zero energy project proposing the reactivation of a currently unused market building. The renovation will use certified wood and recycled materials in construction, and the project will encourage sustainable consumption habits.
Tercer Sonido, Madrid: this project will reconnect the residential and industrial areas of Villaverde by creating a place for cohabitation and transmission of musical knowledge. Constructed using building materials designed for reuse, Tercer Sonido will include a music factory and student residences, as well as an auditorium and organic store.
Campus for Living Cities, Madrid: an energy-positive student hub that will be located on the South Campus of the Polytechnic University of Madrid. The project includes sports and art facilities, housing, and a rehabilitated laboratory that will house urban ecology and sustainability research projects.
Urban Battery, Madrid: a 4.0 battery plant that will meet its carbon-neutral goals through onsite energy production and storage solutions. Urban Battery is projected to create 100+ green jobs in the development of cutting-edge energy technologies.
L'Innesto, Milan: Italy's first carbon-neutral social housing project upon its completion. Located at Scalo Greco Breda, a former freight terminal site, the project proposes an innovative 4th generation district heating system connected to the neighbourhood and powered by on-site renewable sources.
Co-Inventing Doria, Milan: designed as a living manifesto for sustainable urban reinvention. Consisting of a carbon-neutral hostel and a reimagined Viale Doria, the project proposes solutions to several key environmental challenges. The building's envelope will be an innovative "breathing wall" able to recover energy and provide ventilation.
Vitae, Milan: promotes harmony between public and private life and illustrates the permeability between nature and urbanity. The building's signature "Green Spiral" is a path covered by a grapevine pergola and will rise to the top of the building, alternating with terraces, vegetable gardens and seasonal greenhouses.
Teatro Delle Terme, Milan: a proposed urban park that will see former historic stables located at Scuderie de Montel converted into a thermal activity centre.
Recipe for Future Living, Oslo: a residential and commercial space with ambitious carbon-neutral and net-zero energy goals. Located at the Fossumdumpa site, the project looks to address the construction industry's waste problem with an innovative circular economy approach.
The Urban Village, Oslo: a carbon neutral and energy positive community built to prioritise renewables, car-free space, and green areas, such as its proposed greenhouse for herbs, fruits and vegetables.
MKNO, Paris: a mixed-use development set to include student housing, residential buildings, hotels, offices, local shops, a kindergarten, a library and food incubator. MKNO projects to significantly reduce carbon emissions over its lifecycle by using bio-sourced wood and recycled construction materials and procuring at least 50 per cent of its energy from renewable sources and heat recovery.
Odyssee Pleyel, Paris: illustrates the achievements of carbon neutral development by proposing a zero-carbon retrofit of Hall de Décuvage Pleyel, an industrial building located in Paris-Saint-Denis.
Lifandi Landslag (Living Landscape), Reykjavík: a zero-carbon, mixed-use building that harnesses PassivHouse standards and objectives for energy efficiency. Located at the Ártún, Malarhöfði site, the project will be Iceland's largest wooden building upon its completion.
Fabric, Reykjavík: integrates co-living and co-working spaces into a low-energy hub contributing to better, healthier, and greener cities. Constructed with low-carbon building materials, including wood and locally produced stone wool, Fabric takes an ambitious circular economy approach.
"Architects, developers, engineers, creative minds and citizens, this is just the start," said mayor of Paris and chair of C40, Anne Hidalgo. "We need to deliver the city of tomorrow, today. We need to act fast and scale up these solutions to create a new standards of sustainability in our great cities. New winning projects will be unveiled in more cities soon and I am pleased to announce that C40 is already preparing the next edition of Reinventing Cities. Be ready."
Full details of projects and the innovators behind them can be found at Reinventing Cities.
Source: Smartcititesworld.net